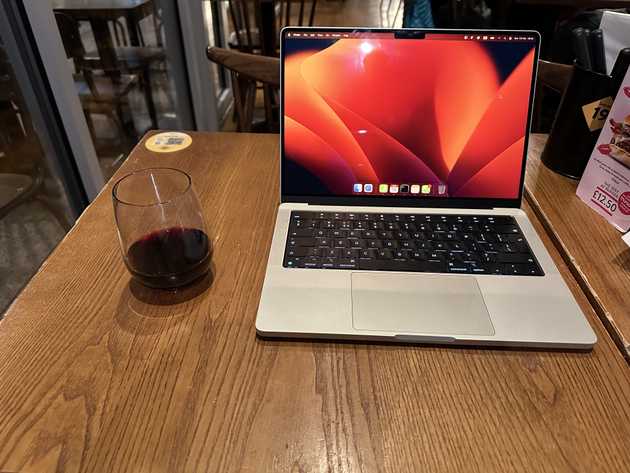 Enjoying some red wine after a delicious burger at GBK while waiting to catch the movie.
TL;DR;
De-load week and plan for the next 6 weeks.
Social presence.
Weekend fun.
Training break; ready to go again 🏋🏻
This week has been chill training-wise. I dropped the intensity of my workouts to half, known as a de-load week. It's up to each individual to go for a de-load week, but I've found that if I don't take one, my weight progression is stalling.
The plan for the next is 6 weeks is to train hard. Hourly morning cardio, so I can eat a lot of food + ~30-40 min training sessions where I go for heavy weights and PRs every session. By easter, I wanna be at my bulkiest. Still trying to keep it lean, though. Hence the cardio 😅. After that, it'll be cutting time. I'm giving myself plenty of time to cut, so I'm not worried if I gain a few extra pounds this period.
Social presence
It's been a long time since I've consolidated and refreshed my social presence. Personal and professional. LinkedIn, Instagram and others. I don't know how long it takes others, but for me, it takes ages. It isn't easy, as I want everything to be perfectly unified. I'll be done by next week and won't have to bother with it for a while.
Fun Saturday & Sunday
Caught up again with the same Greek friends as last week on Saturday. Pretty much the usual stuff. Cappuccino from Carpo and walking around until we're famished and get something good to eat 🍔.
Sunday, I watched Ant-Man. I don't know why so many people complain. It wasn't the best movie. No individual Marvel movie has topped the Winter Soldier. But it wasn't complete garbage, as many people claim. Great graphics and Kang's acting was great. The story was meh. I wish they would have explored the Quantum Realm a lot more. Michelle Pfeiffer looks stunning!